profile id: 615482
height: 5' 10"

cock size: Large
his cock is: Uncut

tattoos: None
preferred role: Versatile
practice safer sex: When appropriate
last here: 28 Nov 2023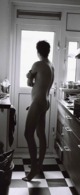 I write to you . . . when that is said
What more is left for me to say ?
Now you are free (I know too well)
To heap contempt upon my head.
Yet if some sparks of pity dwell
Within your breast you'll surely not
Abandon me to my hard lot.


'Tis done! I scarce dare read it through,
But overcome with shame and fright
I trust my honour now to you,
And dare to think I trust aright.